A Business Partner You Can Count On
Has your business been damaged by a disaster? Has a sudden, unexpected flood severely compromised your facility? Has a toxic waste spill like a dangerous chemical or raw sewage infected your property and created dangerous conditions? Has a fire created unsuitable conditions and released immense smoke odors throughout your building? Cleaning up from an unexpected disaster like this can seem like a nearly impossible task, much less one that gets done before your business suffers too much. However, you don't have to do it alone. The team at West Coast Fire & Water offers commercial-grade restoration services that clean up the mess and get you back to operating normally as soon as possible.
Don't wait! If your business has sustained damage from a disaster, get help from the California restoration service pros at West Coast Fire & Water. 
Restore What's Most Important
When it comes to being ready for any situation, West Coast Fire & Water has done it all. With our team, you can get peace of mind knowing we take our commitments seriously.
California Flood & Fire Restoration
OUR SERVICES
We're trained to handle even the toughest jobs, and we make it our mission to stay by your side and restore your business back to the way it should be as soon as possible.
Keeping Your Business Running Smoothly
West Coast Fire & Water offers services for businesses in all industries and all types of properties. This includes industrial and commercial buildings that might work with hazardous materials. With an ongoing commitment to safety, integrity, and protection, every member of our team has been thoroughly trained to handle whatever it is you need. And we provide our crews with premium safety equipment and protective gear to enable them to get the job done the right way.
We have helped a wide variety of different businesses with their needs, including:
Services Designed with Businesses in Mind
Businesses depend on a number of things in order to operate smoothly. A clean, well-functioning facility is vital for not only doing what you do but for creating an environment that is safe and effective for employees. At West Coast Fire & Water, we proudly offer our restoration services to businesses just like yours throughout the entirety of Throughout California. Whether you have a small office you work in alone or a large-scale facility that has been significantly damaged by a disaster, we handle projects of all different shapes and sizes. We approach every job with a fresh and unique perspective, ensuring we always get the job done completely and thoroughly. Plus we respond quickly and work fast in order to minimize downtime and get you back to working normally again as soon as possible.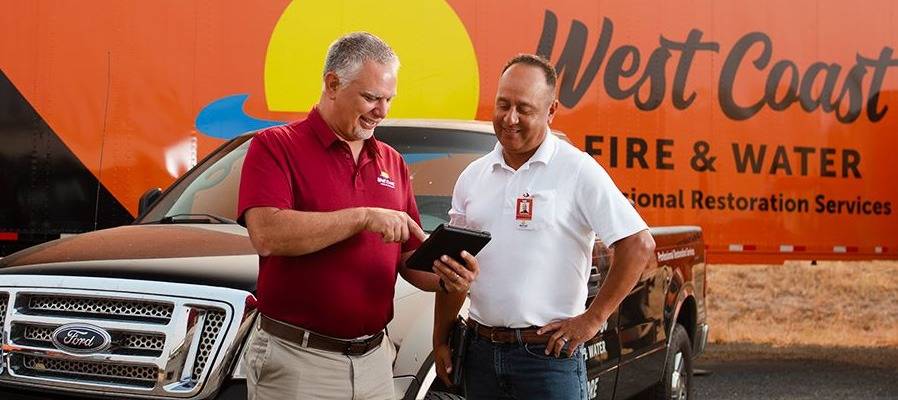 Our Testimonials
Say It Best
They worked with us and directly with the insurance company to make this huge mess manageable.
These people are outstanding! I have recommended their services to other businesses and would use them time and time again. 5-star service and quality.
The team at West Coast Fire & Water is amazing. The team is knowledgeable, professional, and friendly. The responsiveness and speed at which they work are unparalleled.
A different company left my room soaking wet and full of mold. I called West Coast Fire & Water and Brian and his guys came out the next day. They did a very thorough job making sure my room was dry and mold-free. Literally saved my room. In the unfortunate circumstance that you need remediation, I would definitely recommend these guys.
Simply complete our form below